One of my favorite things in the world to do is to go through a book store, picking up random copies of books that look interesting though I've never been one to actually buy a random book.
When it comes to buying, I have to thoroughly look up blog reviews and opinions on forums before I'll actually buy a book, but I'd like to one day have the courage to do so.
Barnes and Noble has a much better selection of speculative fiction books than Borders, at least as far as I've seen and yet Borders has become my favorite store to shop in.
First off, Borders offers a free membership program. No yearly fee here and yet I get great coupons all the time; anywhere from 20 to 40% off any book I choose. Not only that, but they'll order any book I want and ship it to their store, so really they're not that far behind B&N.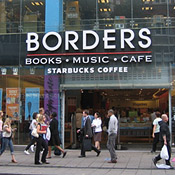 I don't work for Borders or anything (promise) and sadly Barnes and Noble will probably far outlast Borders, but I just wanted to explain my preference in addition to posting the latest coupon:
What does everyone else think?