Happy St. Patty's Day to all and to all a good night! Okay, maybe I got something switched up, but I hope you're having a great one.
I figured what a better time than to gather the latest news in fantasy and science fiction. There's some great stuff going on as well as some awesome covers being released, so here goes:
Brandon Sanderson's new series, starting with

The Way of Kings

(due in the US and UK! August 17, 2010) is going to be massive, well at least this first installment will be. He's signed a contract with Tor for 4 books in the series, but says that doesn't mean that's how long it will be. Sanderson just doesn't like to commit to too much at one time as he says on his blog. I must say, the cover art is growing on me. I like it much more than I did upon first seeing it when I thought it was too bright and colorful. Can't wait to read it.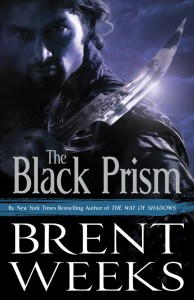 Since we're on a roll with covers, Brent Weeks has a new cover for

The Black Prism

, which I am now extremely excited for since I'm loving The Night Angel trilogy. This is probably 100 times better than the Night Angel covers, but I'm still weary of the realistic approach. For more info, visit Orbit.

Larry's attempting (like it's hard for him) a review a day over at Of Blog of the Fallen. So far so good.
I'm usually not a big horror fan, but Joe Hill's

Horns

is getting some really good reviews over at the Mad Hatter's and Speculative Horizons. I'm definitely getting pushed in the right direction.
Jeff, who used to run Fantasy Book News & Reviews has decided to start a new blog where he can focus on more than just Fantasy called Genre Reader. You gotta do what makes you happy, that's my motto.
Amanda at Floor to Ceiling Books asks if you are a Book Bigamist and I say yes. I can't help starting multiple books at one time and although it takes longer to finish books, it helps as I can read whatever I'm in the mood for.
Are you ready for Science Fiction Appreciaton month? Well, you should be if you're not. Mark and others will be hosting some guest reviews, among other things, at Walker of Worlds.
Tyson has not been too impressed with some of the year's big debuts so far (namely Farlander and The Hundred Thousand Kingdoms). Do you agree? I've yet to read them, so I have no say in the matter. :)

The Library Journal has come up with its list of Books to Spring for this Spring. Some in the SF/F/H category include

Spellwright

and

The Adamantine Palace

, both of which I'm pretty much dying to read.

And that's about all I can come up with, hope you're wearing green or you might get a pinch from The Stamp. (I just realized I'm not, unless my belt counts...eek)